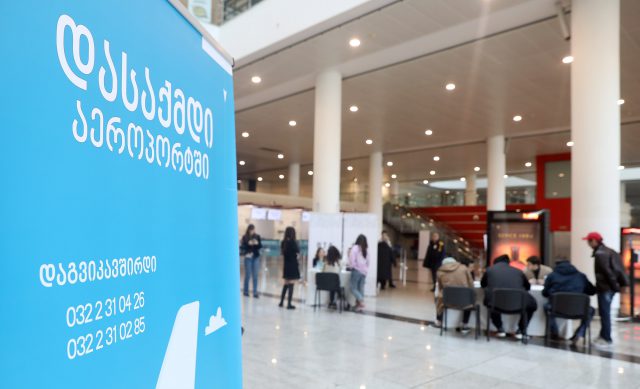 Get a job at the airport – TAV Georgia, the managing company of Tbilisi and Batumi international airports, hosted the job fair today.
During the forum, which was held at Tbilisi International Airport, the interested persons had the opportunity to get detailed information about the available vacancies at Tbilisi and Batumi International Airports and meet the heads of the relevant departments personally.
Job fair – "Get a job at the airport" will be held in Batumi International Airport in the near future.
TAV Georgia is one of the largest employers in Georgia, employing about 1 500 employees at Tbilisi and Batumi international airports.
About TAV Georgia
TAV Georgia is an affiliated company of TAV Airports Holding – a member of group ADP. It started its operation in Georgia in 2005 and will continue its activity until the year 2027 as per the agreement in effect. Having received an investment worth over 220 million USD in Georgia, new passenger terminals of Tbilisi and Batumi airports were commissioned in 2007. Within the above investment in 2016-17 TAV Georgia implemented the Runway and Taxiways rehabilitation project and Construction of New Arrival Terminal at Tbilisi International Airport. Thanks to the multimillion investment made in many different countries, long term experience in airport operations and efficient management TAV Georgia has become one of the most reliable, stable and dynamic companies in Georgia.