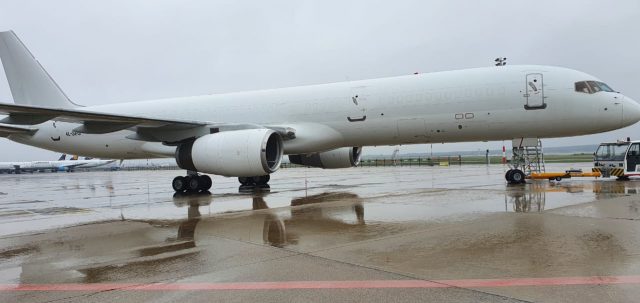 Georgian cargo airline Geo Sky is increasing its air fleet. Geo Sky Vice President Shalva Kiknadze told AviaNews that from now on Geo Sky will operate with Boeing 757-200 in addition to "Queens of the Sky".
The aircraft is already at the Tbilisi International Airport and has already been registered in the Georgian Civil Aviation agency and the process of adding the mentioned aircraft to the operator's certificate on Geo Sky has been started.
Shalva Kinkadze: "Within the case of our airline, the demand is way larger than the airline can present providers. Nonetheless, with a purpose to meet the demand and serve extra cargo, we'd like extra plane. At this time, the state of affairs on this planet is such that it's fairly tough to discover a free cargo Boeing-747. There are specific choices, however the course of takes lots of time."
The Boeing 757-200 was manufactured in 1993 and was registered in Austria and operated by ASL Airlines Belgium. Before that, Air Seychelles, Air Transat, Air Holland, Air Scotland, Air Finland, Atlas Jet and TNT Airways operated with the mentioned Boeing 757-200.
This aircraft can transport 28.7 tons of cargo at the same time.
It should be noted that Geo Sky's fleet includes two Boeing 747s released in 1987 (B747-236SF and B 747-281BF).
Geo Sky was issued an operator's certificate by the Georgian Civil Aviation Agency in 2017. In 2018, the airline successfully passed the authorization process for airlines from non-EU member states (EU safety authorization for foreign air operators – PART-TCO). Geo Sky is staffed with Georgian aviation and engineering-technical personnel.
Air company Geo Sky is the first Georgian carrier that performs regular cargo flights from China to Europe via Georgia. Before that, the company provided charter air traffic on the mentioned air lines.
On November 25, 2020, the Georgian airline was granted the necessary permission for regular cargo traffic by the Georgian Civil Aviation Agency of the Ministry of Economy and Sustainable Development of Georgia.