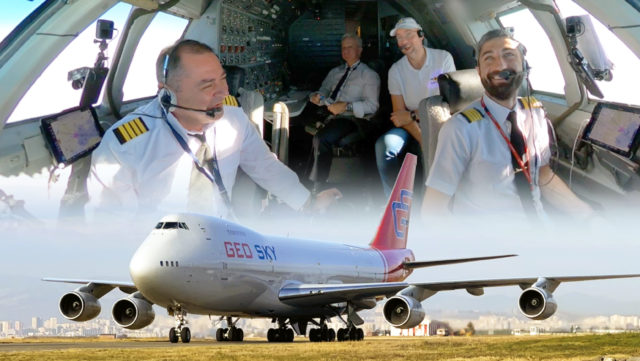 German company Air Clips made a documentary film about Georgian cargo airline – Geo Sky, the official presentation of which will be held today in Germany.
Why Air Clips is interested in Georgian airline? How was the shooting of the film? Patrick Lutz, the founder and owner of Air Clips told Avianews.
What sparked your interest in Geo Sky and how did the airline and Air Clips work together?
In working life I am engaged in flight safety. A non-EU airline being allowed to operate classic airplanes into the EU by default tells a story. One knows that Geo Sky must have been and still must be under high scrutiny of the authorities. Successfully managing this situation and being allowed to operate is a great thing that caught my attention and interest in Geo Sky. On top of that, as an aviation lover, filming the B747-200 is a dream in itself
Where and under what circumstances did the filming process take place and how good responders were the Geo Sky crew members?
After more than 100 high-level filming projects, the co-operation with the Geo Sky team has been special and particularly pleasant on all levels. A remarkable experience. Very capable and professional people all over. I had the privilege and pleasure to meet the CEO and his senior management team during the Dubai Airshow. I was expecting a short formal business meeting, but it turned out to be a three-hour meeting with what felt like friends from the first moment. The filming itself was organized within less than one week and took place enroute Frankfurt-TBS-Frankfurt a few days later.
How long did the filming period last?
Short and sweet: one day Frankfurt-TBS, one day in TBS, one day flying back. Thanks to the extremely efficient management of all the Geo Sky team, no more time was needed for getting a high quality result.
Did everything happen according to the script during the filming?
We do not use scripting, but just picture the absolute real life. Hence my hope during filming work is that people are not distracted by myself and can just follow their normal routines plus some interviews on cruise. That worked out 110% and could not have been any better.
Did you see any nuances in the work process that were not in the script but should have definitely been included in the film?
Actually there were a lot of funny moments happening during the filming. Probably also because the personal relationship between Captain Tornike, Captain Mamuka, FE Igor and myself was what I perceived as something very, very special. During editing I decided to leave these moments in the film and not to take them out. I gave Geo Sky the possibility to review, but they did not take out anything either. Hence, the result is a very true and accurate reflection of the filmed flight, including so much fun we had.
How satisfied are you with what you saw during the filming and the airline infrastructure?
Georgia is the 137th country I've visited and I kindly ask you to document here and now, that the people of Georgia are the most friendly, pleasant and hospitable that I have – by far – met anywhere in the world. Speaking about what I have seen in terms of airline operations and infrastructure needs a bit of background again. Being a flight safety auditor and having worked in aviation management for 20+ years, I have seen many dozens of airline headquarters and operations globally. Geo Sky is on peer level to the world leading airlines. As we say in my maritime hometown Hamburg, "the fish smells starting from its head". The management team appears to be very knowledgeable, focused and smart and that is exactly the way I experienced the entire operations. A lean and capable organization with a vision.
On the terms of the new airline, what is your vision for Geo Sky and does it meet European standards?
A non-EU airline that already operates classic aircraft into the EU to the satisfaction of the authorities can set up just any operation between Georgia and the EU in terms of safety, professionalism and authority recognition. I am excited to see this happen!
Air Clips has been on the market for how long and according to today's data it has conveyed the history of several airlines. What criteria do you use when choosing an airline to make it your target?
Cooperations between airlines and AIRCLIPS work a bit like romances. You know each other for a while, suddenly one makes the first contact and if things work well something really lovely can grow out of that. AIRCLIPS has been doing what we're doing today for some seven years. There's always a combination of criteria like size of aircraft, type of ops, attractiveness of the airline in various terms and the personal connection you have with the people behind.
Were you additionally interested in any other Georgian airline?
Usually "we sleep with an open window", but in the case of Georgia we feel committed to our friends at Geo Sky. Their B747 ops would always be great for another film and any other ventures, from helicopter to wherever it may take this organization, will always be a top priority topic for us.
Thank you very much for your interesting questions and hats off to the people of Geo Sky and Georgia!